FAREAST 31R * New in GRP *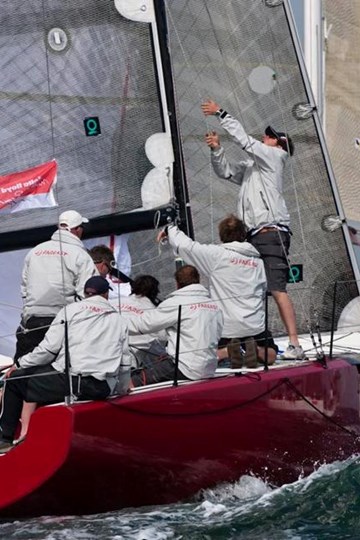 The innovative FAREAST 31R is now also available in GRP at a breathtaking price reduction. Still packed with the ultra modern features from the all Carbon version this grand prix racer will give you the ultimate racing experience with adrenalin pumping boat speeds. Look at our 28R results and imagine what the 31R is capable off !
The FAREAST 31R has been designed with only one goal in mind: to be the fastest 31ft racing yacht in the world. For this, the yacht features a lightweight hull/deck structure carrying a 1.200 kg lead bulb, which will guarantee high all-round performance.
The modern hull shape with its flat aft run allows for exhilarating downwind sailing. Boat speeds into the twenties are definitely achievable The Selden mast with twin running backstays enables this powerful yacht to carry a large square top mainsail. The diverters on the backstays will tighten the forestay in upwind conditions, making sure maximum pointing ability and boat speed are achieved.
The deck layout is kept clean as all control lines are situated under decks. Downwind a large asymmetric spinnaker is launched from the built-in chute on the foredeck preventing the need of any crew on the bow, allowing the yacht to maintain level trim and maximum boat speed during sail manoeuvres.
The FAREAST 31R is an ultimate racing machine and sets a new standard with a number of novel features on and below decks.
Our 28R has proven to be capable of outperforming 31-32 Ft racing yachts, imagine what the 31R can do!
Pleas contact us for more information.