FAREAST 28R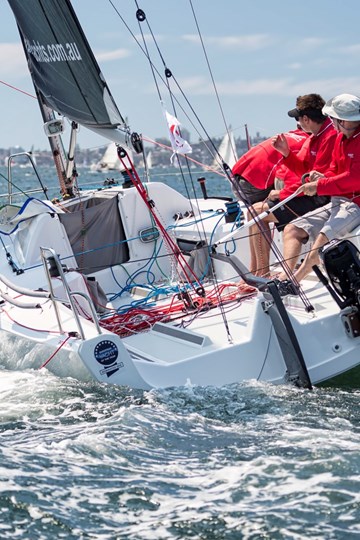 Class racing at it's best, over 350 boats have been sold and with 11 in the country we are building a new class. World Cup's, Nationals or Club racing, the 28R covers it all. Join the excitement of fast sailing today!
The Fareast 28R ticks a lot of boxes, please scroll trough the topics to find out how many for you.
Performance:
The Fareast 28R is a proven race winner and has beaten many bigger boats over the line: Melges 32, J-111, J-130, Beneteau 44.5, Archambault 40, Sydney 38, Pogo 12.5, MC-31, Thompson 980 and Farr 30 are just a few to mention. (see our FaceBook page for race results) The 28R is not purely designed for one design racing, she also performs very well under handicap so you don't have to wait for large fields to appear in your area to have some good fun.
Easy to sail, handle and manage:
The FAREAST 28R is easy to sail fast, it offers very good control due to the deep spade rudder and the high form stability of the hull. For racing a crew of 4- 5 is ideal, however the simplicity of the 28R makes it possible to go out for a fun spin or twilight with as little as 3, even setting the kite in a stiff breeze won't be a problem. Do you like a fast but easy to manage and control boat? you don't have to look further.
ISAF approved One Design Class:
The Fareast 28R is an ISAF approved One-Design class and with 350 boats sold numbers are growing fast. We are building a new class in Australia and the 2 Nationals have been already been sailed. Join the fun today!
International Fareast Regattas
World Cups are organised yearly, Sweden hosted the first Worlds in 2017 and the most recent one was held on Fuxian lake China. Other international Fareast OD racing options are the yearly China Cup in Shenzen and the Fareast International regatta in Shanghai
Easy Trailable and simple lifting:
The keel is fully retractable and the boat sits nice and low on the custom made trailer reassuring a comfortable and safe drive to those loved (tropical) events. The boat is ramp launchable and the mast deck stepped. The 28R is also an ideal boat for hardstand storage, it has a single lifting point on the keel fin and the bulb takes up the boat in the hoist saving the so much loved keel lifting workout, which is not too bad by the way.
Construction and hardware:
Fareast has invested heavily in CNC machines over the last years, everything from moulds and plugs to foam and glass is cut on high tech milling machines, routers and laser cutters providing the very high quality standards the company stands for. A huge 5 axis milling machine is used for hull and deck moulds but also for milling and drilling deck hardware patterns. These modern production methods result in extreme high accuracy, high quality and reduction of labour cost
The Fareast 28R is constructed using a ISO polyester - foam core sandwich, resin is pre weight and vacuum infused. This advanced building technique guarantees a rigid, light and stiff construction. The one piece infused inner structure "the spine" takes up all the forces from the keel and rigging. The Fareast 28R is very well equipped with the best hardware available from Harken, Spinlock and Selden for the rigging, no compromises have been made when it comes to quality.
Unbeatable price, low running cost:
The Fareast 28R offers great value for money. No more antifouling, high repair bills, another expensive sail or high mooring fees. You can save thousands a year compared to running a bigger yacht.
Multiple ownership?
Maybe not everybody's cup of tea but about half the 28R's we sell are owned by more than one owner. It not only cuts the cost in half but you straight away have 2 or more motivated crew members. 
Tests:
Australian Sailing Magazine tested the 28R, the test report can be found under specifications. A test video from Yachting World can be found under video & reviews. 
Like to test the 28R yourself?
We are located in Manly-Brisbane and offer a great day of sailing on Moreton Bay. For those flying in, it's only 20 min. from the airport and we will arrange free transport. Other options are available in Sydney and in Melbourne.
Please contact us for a chat about Fareast or to book your trial sail.