FAREAST 37R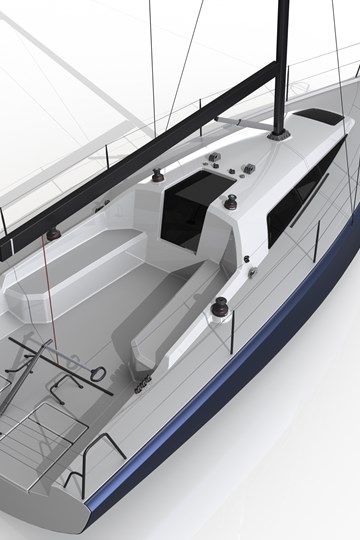 Be very competitive in races but also enjoy nice fast cruising with the family. The all new Fareast 37R combines the best of both Worlds in an affordable package.
People nowadays are used to high speed sailing and are using boats in a different way than 15-20 years ago. Fareast Boats has been at the forefront of high performance boats over the last six years and are now introducing the FAREAST 37R. The 37R is designed for those who like to be very competitive in races but also like to enjoy fast cruising with the family.
The contemporary interior will feature light colours, stylish supported by backlighting and inlays in carbon and stainless steel. Spacious with 2 cabins, a large heads and plenty of storage space.
Overall weight has been kept to an absolute minimum and at 4.4T the boat is the lightest in its class. The high performance carbon keel fin accommodates a 1600kg lead torpedo bulb, a set up only seen on high end racing Yachts. The 37R will be easy to sail fast due to the low wetted surface which doesn't change under heel. Flat aft sections provide a stable planing platform, set the large masthead A-Sym kite on the carbon prodder and speeds in excess of 20 knots are on the menu.
The 37R offers tiller or twin wheel steering, other options include a square top main and carbon rig.
All parts are vacuum infused, many in closed aluminium moulds. Production is supported by a large number of CNC machines, moulds, foam, laminate and many parts are cut with ultra high accuracy. This is a more expensive production method but delivers the preciseness, finish and quality Fareast stands for.
And at this price? We think it's the most competitive in its class!
Please contact us for more info.